(Togo First) - In the past 10 years, Togo has undertaken various projects to modernize its infrastructures, and subsequently the economy. These include the construction and rehabilitation of roads, works to improve the autonomous port of Lomé, and a new airport terminal.

Ports
The only deepwater port in West Africa is the autonomous port of Lomé. It is the only one that can receive third generation ships. The infrastructure was inaugurated on April 26, 1968 but only began operations May 1st, the same year.
Two years ago, the port handled 1.4 million TEU (twenty-foot equivalent unit) - a traffic that made it the leader in the Gulf of Guinea area. In 2019, the infrastructure won, for the third consecutive year, the awards for best transhipping port in West and Central Africa. Transhipping, which represented only 5% of the port's total traffic in 2012, recorded a stunning boom to stand at 64% of this traffic at the end of 2019.
Back in 2017 already, the port of Lomé overtook Lagos' in terms of container traffic. In 2019, it stripped Abidjan of its leadership on the transhipping segment.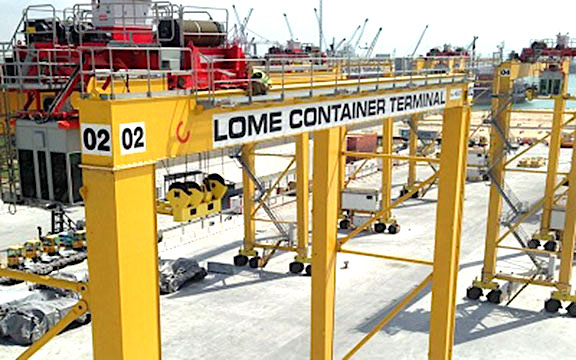 The port owes the various achievements to massive, and sustained, investments made in recent years.
Indeed, in 2013, an SFI-led consortium spent €225 million in the construction of the Lomé Container Terminal (LCT). The latter came online a year later and subsequently drove the port container traffic from 311,500 TEU in 2013 to 1.4 million TEU at the end of 2018. Let it be emphasized that a world leading shipping and logistics company, Mediterranean Shipping Company (MSC), is a stakeholder in LCT via its subsidiary, Terminal Investment Ltd.
In 2014, a third dock, financed by the Bolloré group (XOF300 billion), was commissioned. Its length and depth are respectively 450 m and 15 m. It has two berths and can receive 7,000 TEU containers.
Last year, MSC announced it would invest €500 million in the Lomé Container Terminal with as goal a substantial increase in the container traffic, to 4 million TEU per annum.
These various investments are leaned to a dynamic road development strategy.
Beside these, other major projects are underway to modernize the port of Lomé and boost its activities, in line with Togo's national development plan (PND). Amongst these, there is the installation of a multipurpose logistics platform and a number of logistics facilities. Regarding the multipurpose platform, the project which is led by the Togo Invest Corporation is well advanced. It includes a road accessing the port, a checkpoint station at the boundary of the port area, and a park for trucks and other vehicles. A railroad going from Lomé to Cinkassa should also be built to facilitate the movement of people and goods between the two locations. This infrastructure will also improve transportation of containers to Sahel countries, and thus greatly boost logistics in Togo.
Another project includes a 100-ha dry port that should be built around Cinkassé (at the Togo-Burkina Faso border). It aims at containerizing and reinforcing the transportation corridor between Lomé and Cinkassé.
In April 2019, a new dry fishing port, in Gbetsogbé (about 10km from Lomé), was inaugurated. The facility can receive up to 300-400 pirogues, and host 3,000 fishermen, and 5,000 fishmonger and fish processors.
A private port was also built in Kpémé, 35 km south-east of Lomé. It has a 225 m dock and an 11.8 m draft. It is exclusively dedicated to the exportation of phosphate.
While Togo has many rivers - the two largest being the Oti River (a tributary of Lake Volta) and the Mono River - activities on them are weak and there is river port.

Roads
Over the past eight (8) years, the government of Togo has invested a total of XOF680 billion in road infrastructures, in line with plans to asphalt 60% of the country's roads by 2022. In this framework, the authorities intend to widen the national road N°1, at a cost of $620 million. The national road N°17, between Katchamba and Sadori, will also be asphalted with financing from the BOAD.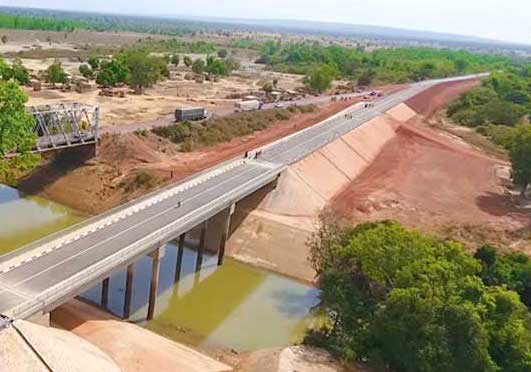 Togo's road network spans 11,777km. Asphalted national roads and city roads cover respectively 2,101 km and 1,473 km of this distance. Meanwhile, the length of non-asphalted national and rural roads is estimated at 1,294 km and 6,802 km.
The country has three main road corridors:
The national road N°1, Togo's main road axis spans 746 km and goes across the country from the south to the north. The second corridor connects Lomé to Hillacondji (at the border with Benin). It is about 53 km long and is part of the 1,022km-long Abidjan-Lagos corridor.
The third corridor is the CU19 WAEMU community road. It starts in Nyamassila and connects to the Benin border, by passing through Bagou, Goubi, Kambolé, and Balanka. It is 180 km-long.
Between 2012 and 2016, major works helped increase the percentage of roads in a good state from 18% to 29%, while reducing that of roads in poor state from 49% to 40% over the same period.
Established by the decree N°2012-013/PR of 26 March 2012, the Société Autonome de Financement de l'Entretien Routier (SAFER) is in charge of road maintenance in Togo. In 2012, it maintained 900 km of roads. This distance however increased to 1335 km in 2014, and 2,194 km in 2017.

Airports
AIGE or Gnassingbé Eyadema International Airport is the biggest airport in Togo. Built before the colonial period, it covers an area of 413 hectares.
Various works have been undertaken since its creation to modernize the infrastructure. For example, a new terminal meeting international standards was inaugurated in 2016.
Besides a growing modernization, airport traffic also rises. In 2012, the AIGE recorded a passenger traffic of 470,000. In 2019, the infrastructure recorded nearly 50% of this number (246,000 passengers) in the first five months of the year alone. Competent authorities seek to reach 2 million passengers by 2022.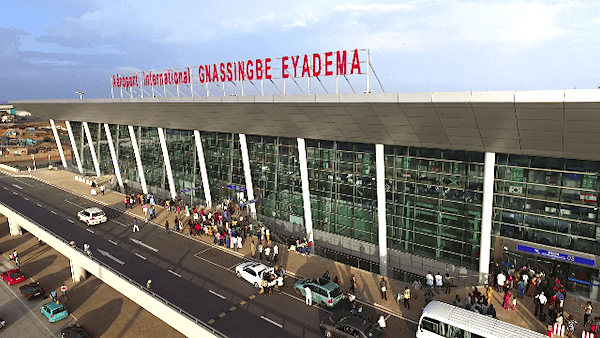 Amongst airlines operating on the Gnassingbé Eyadema International Airport, there are some major players like Ethiopian Airlines, Asky (based in Lomé), Air France, Brussels Airlines...
Regarding Ethiopian airlines, it has started offering direct flights from Lomé to Houston, US, since mid-December 2019.
At the end of September 2019, AIGE generated a total of XOF3.54 billion in revenues allocated to the State budget.
Togo's second airport is the Niamtougou International Airport, located 450 km from Lomé. And while it handles mainly private cargo flights at the moment, important works are undergoing to make this airport a reference in terms of airport logistics, especially for cargo traffic to hinterland countries.