(Togo First) - In Q1 2021, 4,087 new businesses were registered, against a little more than 3,600 businesses over the same period last year. The 11% increase reflects an ongoing economic recovery amidst the Covid-19 pandemic.
In detail, out of the newly registered businesses in the past quarter, 3,280 or 80% of the total were registered by Togolese and the rest (807 businesses) were registered by foreigners. On a gender basis, 27% of the figure reported in Q1 2021, or 1,104 businesses, were registered by women. This is a great performance considering it equals the number of businesses registered by businesswomen throughout 2020.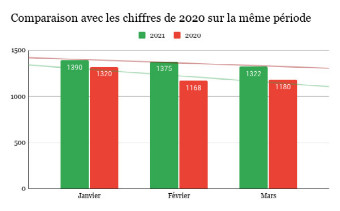 Significant performances but a hardly measurable impact
While there are improvements regarding the number of newly registered businesses in the country, the impact - in terms of job and wealth creation - that these businesses had on the economy in the past five years is hardly measurable. However, according to a recent study by the Centre de Formalités des Entreprises (CFE, Center for Business Formalities) the ratio of businesses that are effectively operational stands at 52.5%.
Moreover, still comparing Q1 2021 and Q1 2020, the number of businesses registered as legal entities was up by 3%, compared to businesses registered by natural persons. Nevertheless, the latter make up 60% of all businesses registered in the quarter under review (Q1 2021). Regarding LLCs, 1,425 of them were registered between January and March this year. Out of these, 91% were registered under private seal.
Klétus Situ