"Construction works at the Adetikope's Industrial Platform (PIA) are about 65% complete." This was disclosed on April 8, 2021, by the platform's managing director, Jesse Damsky, during a visit by Prime Minister Tomegah-Dogbe on the site.
Also present on the occasion, the minister of trade, Kodjo Adedze said: "Her excellency, the Prime Minister, toured the PIA and noticed that the works are proceeding according to schedule. They are progressing well within the set delays. The level of completion is very satisfying."
For his part, Damsky said that "in the first phase of the project, 40% of the site will host logistics projects. There will also be a truck park, a container park, and a warehouse for agribusiness products. Additionally, there will be factories that will process raw cotton and others that will turn this processed cotton into fabrics."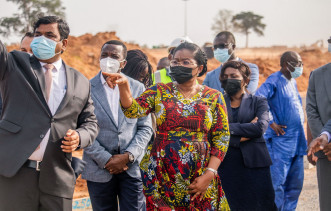 The PIA is a project born from the government's ambition to industrialize the country and create more jobs. Regarding the latter, the platform is expected to generate at least 35,000 jobs in the long term.
Séna Akoda