(Togo First) - On Monday 29, 2021, Kayi Mivedor and Kodjo Adedze, respectively Togo's ministers for investment promotion and trade, participated in the Mouvement des Entreprises de France (MEDEF), a virtual meeting where the two officials urged French bosses to invest in Togo. This is in a context where the African country is currently seeking funds to finance its five-year (2020-2025) development roadmap.
During the event, the ministers touched on Togo's economic situation and prospects for development. They also talked about projected reforms and sectors that the Togolese government considers to be key for growth.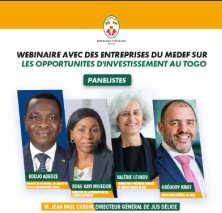 The webinar should pave the way for talks related to investment projects by Fench firms in Togo. Most of the session was dedicated to business issues.
Séna Akoda