(Togo First) - The Togolese Head of State, Faure Gnassingbé, met on Wednesday with Japanese PM Fumio Kishida. This is part of an official visit to Japan, said the Togolese Presidency.
During the meeting, delegations from the two nations addressed their bilateral partnership, and the many diplomatic, strategic, and economic agreements and conventions that bind them.
In Togo, Japan has, among several initiatives, financed the establishment of the fishing port of Gbétsogbé, helped boost food reserves through the Kennedy Round, and contributed to the fight against Covid-19.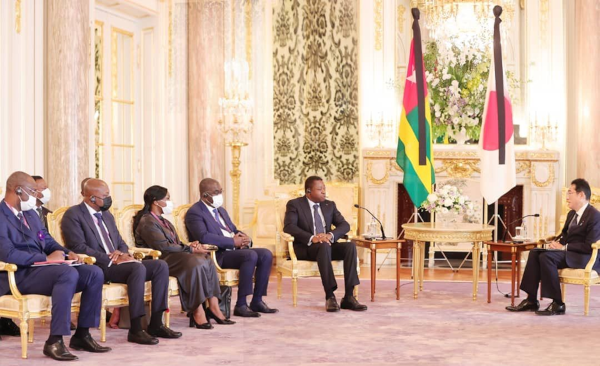 "The ongoing projects focus on infrastructure, food security, and the realization of digital mapping through the Japan International Cooperation Agency (JICA) and as part of the Tokyo International Conference on African Development (TICAD)," said the Togolese Presidency on September 29, 2022, as part of this meeting. It added that "Japan is a strategic partner of Togo in the implementation of priority directions of the development policy."
The meeting, let's emphasize, comes a few weeks after TICAD 8, which was held in Tunis. A summit during which Tokyo announced $30 billion in development aid for Africa. Resources Togo intends to take advantage of.