(Togo First) - The Banque Centrale des Etats de l'Afrique de l'Ouest (BCEAO) raised its benchmark rate, again, by 25 points to 3.00%. The lender announced the increase on March 1, after its Monetary Policy Committee meeting, at its headquarters in Dakar.
The benchmark rate is the rate the Central Bank lends to commercial banks in the sub-region. By increasing it, the BCEAO aims to stifle inflation. "This increase, which is the first of this year 2023, and the fourth since June 2022, is part of the gradual normalization of the monetary policy of the Central Bank. It should help bring inflation within the Central Bank's target range (1% to 3%) over the medium term," BCEAO said.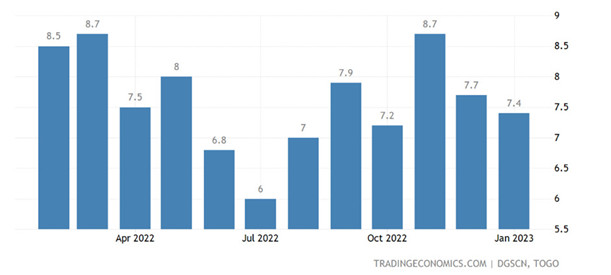 Indeed, inflation in the WAEMU remains high though it started reducing–from an average of 7.0% in December 2022 to 6.0% in January 2023. "The observed decline was supported in particular by the good results of the 2022/2023 agricultural season, as well as by the monetary policy measures taken by the Central Bank and the efforts of the States to curb the high cost of living."
That said, the inflation rate was above 7.0% in January 2023 in several countries of the Union, including Togo.
Ayi Renaud Dossavi