(Togo First) - Despite the pandemic and the pressure it put on Togo's economic sectors, the country's cereal production is faring well. Indeed, for the 2019-2020 campaign, grain output was estimated at 1.3 million tons thus 7% above the average for the 2015-2019 period.
Production of corn (which is the most consumed grain in Togo) over the campaign under review stood at 923,000 tons (or 10% more than the average for the past five years).
Regarding projections for this year, they are excellent and according to the FAO, this is due to good rains and satisfactory supply of input by the state and private actors.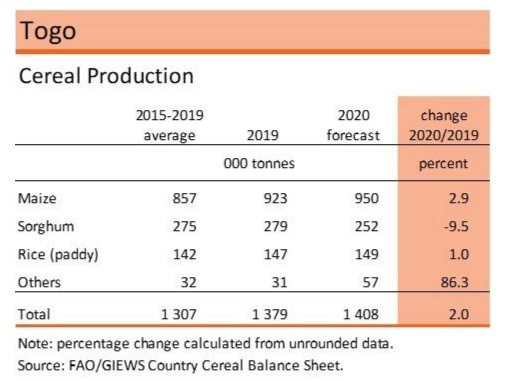 "Rains were above average in most regions since March" and this was favorable to germination and cultivation. In the North especially, this enabled farmers to commence cultivation on schedule.
Also, the state helped farmers, by providing them with"improved seeds, fertilizers, phytosanitary products, and agricultural mechanization services, all through a zero-interest loan system."
Besides these good conditions (despite the negative impact that anti-covid safety measures had on agricultural value chains), "adequate food availability, a regular functioning of markets and the relative stability of prices," also fostered food security in Togo.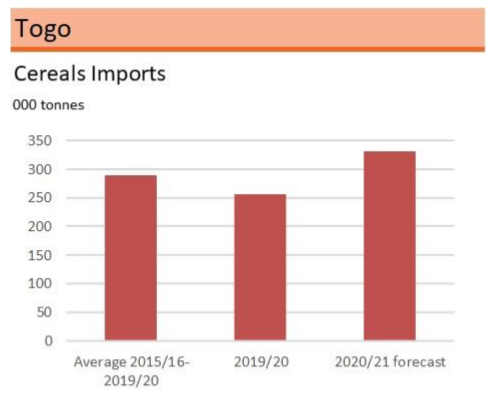 However, the country should keep depending on imports regardless of the positive projections for its cereal output. Indeed, the FAO observes that Togo's cereal imports demand in the 2019-2020 campaign could be slightly above the average (280,000 tons) over the 2015-2019 period.
Ayi Renaud Dossavi