(Togo First) - Geospatial and demographic data analyzed by predictive algorithms enabled the Togolese government to refine targeting and optimize the second phase of its Novissi cash transfer program, supported by the international NGO GiveDirectly.
AI used to support Novissi
Artificial intelligence tools have been made available by the World Bank, through the International Development Association (IDA) as part of the Single Identification Program for regional integration and inclusion in West Africa.
The 100 poorest cantons in Togo were identified using geospatial and demographic data. To achieve this, World Bank technicians and experts from the American University of Berkeley and the Northwestern University established micro-estimates of wealth for areas of 2.4 km², a territorial division made by satellite imagery, by applying deep learning algorithms.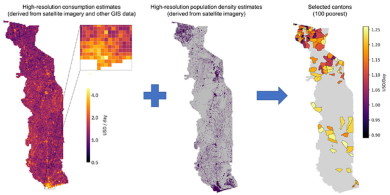 These estimates were then combined with information on the population density of each area.
The data collected through two telephone surveys of active subscribers provided accurate information on the living conditions of 10,000 people.
57,000 beneficiaries targeted
This dataset was then analyzed by predictive algorithms to forecast the consumption of 5.7 million people, or 70% of the population.
"In the 100 poorest cantons, people whose estimated consumption was less than $1.25 per day were selected as priority beneficiaries of the Novissi program. All of these people are significantly poorer than the average resident of Togo," said Josh Blumenstock, associate professor and director of the Data-Intensive Development Lab at UC Berkeley and a member of the Innovations for Poverty Action (IPA) think tank.
For example, between November 2020 and March 2021, these algorithms provided social funds to 57,000 recipients in the 100 poorest townships in the country without contact.
Looking ahead, several telephone and face-to-face surveys are planned to consolidate the models and identify unintended margins of error unfavorable to recipients. "The algorithms will be able to assess the errors of inclusion and exclusion of beneficiaries and evaluate the effects of the program on food security and well-being," explains the World Bank.
The Bretton Woods institution intends to provide additional resources so that the project and the technical assistance granted to the Togolese government will eventually lead to the establishment of an "integrated social information system to support the prioritization, deployment, and monitoring of various social protection schemes."
Growth in mobile money penetration
More globally, from its launch in April 2020 to January 2021, the Novissi program has spurred the creation of 170,278 new mobile money accounts. This represents a 7% growth in the penetration rate of money transfer services in less than a year.
Klétus Situ