(Togo First) - The Road and Rail Transport Office of Togo (DTRF) generated over CFA3.9 billion in revenues in 2021 (by the end of November). The entity disclosed the figure last Wednesday, Jan 25, 2023.
The DTRF attributes the mobilization to several activities such as the registration of motor vehicles, the organization of the examination and issuance of driving licenses, technical inspections of vehicles, the issuance of registration cards, and document transfers.
In 2021, precisely 93,944 vehicles were registered, 28,581 4-wheelers and 65,363 2-wheelers and similar. 29,620 licenses (renewals, international licenses, duplicates, and driving rights) were issued. In the same year, 142,873 vehicles of all categories passed the technical inspection.
Progress over the years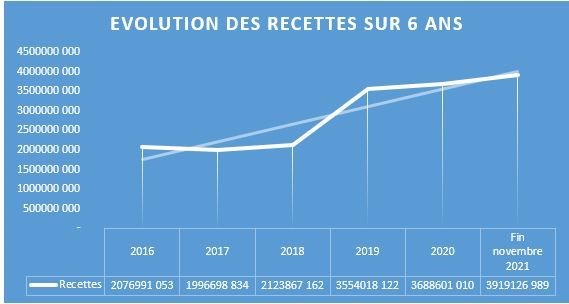 From 2016 to 2021, the DTRF's earnings almost doubled, from CFA2 billion to CFA3.9 billion. Except in 2017 when they fell slightly to CFA1.9 billion, the revenues went up over the period. They stood at CFA2.1 billion and CFA3.5 billion in 2018 and 2019, respectively.
Meanwhile, the number of registered vehicles rose as well, from 64,120 in 2016 to 93,944 in 2021 (+46%).
Esaïe Edoh