(Togo First) - Complexe Cajou du Centre was able to secure 600, 000,000 CFA with the help of the risk-sharing based Incentive Mechanism for Agricultural Financing (MIFA). The funds will be used by the firm to modernize its production.
Complexe Cajou du Centre processes cashew nuts with automated equipment and with this gracious help it was able to create 200 direct jobs, mostly for women, and 100 temporary jobs, in Sagbadeï, a village in the Central region of Togo where it is based.
The news was disclosed by the firm who said it would cover part of the risks associated with agricultural loans. The commitment was taken during a visit from Togo's PM, Victoire Tomégah-Dogbé, at Complexe Cajou du Centre.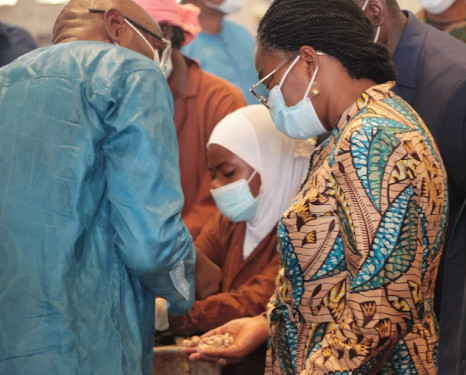 According to Ibrahim Kangaye, owner of Complexe Cajou du Centre, the cashew processing plant has an annual capacity of 8,000 tonnes of nuts and 2,000 tonnes of kernels. Most of its output is exported to Europe and the US.
"Here, we have a cashew processing plant. We turn the nuts into kernels for export. Most of what we produce is exported", said the business while emphasizing that his firm intends to soon meet local demand with part of its output.
The Complexe Cajou du Centre includes the processing plant, a cashew plantation and beekeeping facilities.
Séna Akoda