(Togo First) - From 200,000 t initially projected in 2022, Togo revised its forecast for cotton output to 225,000 t by 2025.
This is a commitment farmers made to the State and Olam which is the new majority shareholder of the Nouvelle Société Cotonnière du Togo (NSCT). The information was disclosed by Koffi Etoh, coordinator of the National Federation of the Cotton Farmers' Association (FNGPC).
In 2019-2020, Togo's cotton output dropped (116,000 t) as farmers withdrew due to a continuous decrease of prices per Kg.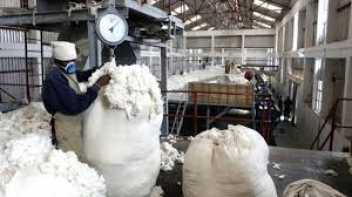 Incentives to boost output, qualitatively and quantitatively
During a recent tour, a delegation of the NSCT encouraged farmers to do their best to meet their commitment. This delegation included the Boards of Pré Simfétchéou and Jacky Rivière respectively
Among incentives to encourage the producers, a minimum price per Kg (235cfa per kg) was fixed, a stabilization fund (to stabilize falling prices) was announced, an automatic system to re-evaluate the price per kg as soon as national output grows.
The main goal of key actors in the cotton sector is to dynamize it, making it the main provider of input for the local textile industry. In Togo, cotton contributes nearly 4% of the GDP.
Séna Akoda