(Togo First) - To date, the portfolio of African Lease Togo (ALT) is valued at about 10 billion CFA. This was revealed to Togo First by the firm's managing director, Toussaint Sossou.
Active in Togo since 2019, subsequent to the adoption of the law on leasing, the company significantly supported businesses over a short period. At the time it started activities in the country, Sossou had declared: "Through leasing, African Lease Togo will obtain professional material and equipment for very small enterprises, small and medium enterprises, and small and medium, industries, giving them the option to buy or lease over long periods of time."
ALT, whose operations are approved by the ministry of finance and economy, covers agriculture, agribusiness and construction.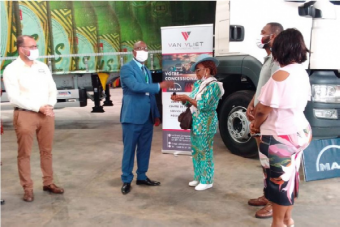 In tandem with the Incentive Mechanism for Agricultural Financing based on risk-sharing (MIFA), African Lease Togo arranged the purchase of tractors for farmers. The related investment was 1.5 billion CFA.
Also at the end of Q2 2020, 15 new MAN trucks and 15 SCHMITZ CARGOBULL trailers were provided to Brasserie du Bénin (BB Lomé), for nearly one billion CFA.
It should be noted that ALT increased its capital from CFA3.1 billion to 3.5 billion in order to expand its leasing-factoring activity.
Séna Akoda