(Togo First) - Financial inclusion keeps improving in Togo. This is shown in a report that was published on September 28, 2022, by the Central Bank of West African States (BCEAO). The document is titled "Tableau de bord l'Inclusion financière dans l'UEMOA au titre de l'année 2021" (Financial Inclusion Scoreboard in WAEMU for the year 2021).
According to the Central Bank, Togo's strict bancarisation rate (the number of natural persons holding deposit or credit accounts in banks, postal services, savings banks, and the Treasury, as a proportion of the adult population) rose from 27% in 2020 to 30.1% in 2021, an annual increase of 11%.
Regarding the broad bancarisation rate, which takes into account financial services in the broad sense such as mobile money accounts and microfinance, it rose from 80% in 2020 to 84.2% last year, according to the same source.
Over the same period, the overall demographic penetration rate of financial services, which measures the total number of financial service outlets in the country as a proportion of the adult population, increased from 50% to 67%.
For Togo, this marks an evolution in financial inclusion over the decade. According to the BCEAO, the synthetic index of financial inclusion has more than tripled in ten years, rising from 0.204 to 0.626 in 2021.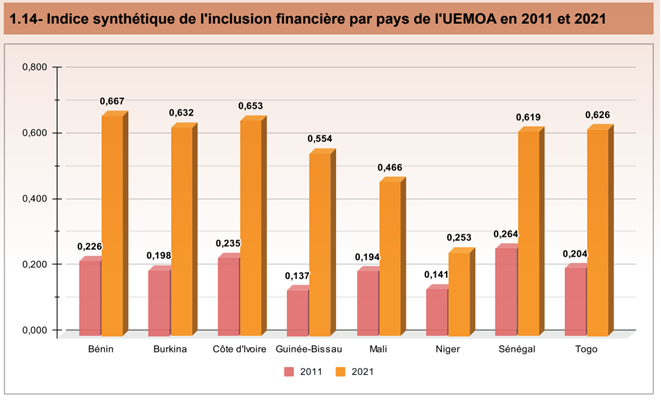 In the country, this positive trend is driven by several mechanisms, including postal services (Eco CCP in particular), mobile money, mobile banking, and the democratization of microfinance companies. The National Fund for Inclusive Finance (FNFI) also played a role in the shift. Since it launched, about half a decade ago, the Fund gave out over CFA100 billion in loans, covering about 1.7 million beneficiaries who had to open accounts.
Earlier this month, the Togolese government announced the creation of an observatory on the quality of financial services to "support and encourage the progress noted" in terms of financial inclusion.
Ayi Renaud Dossavi