(Togo First) - Seven out of 10 Togolese approve of how the government handled the Covid-19 outbreak. This is the conclusion of a survey that Afrobaromètre conducted in March 2022 and whose results were released on February 27. The survey covered 1,200 people.
The majority of the surveyed are satisfied with the government's efforts in mitigating disruptions in the education sector and providing adequate resources to health centers.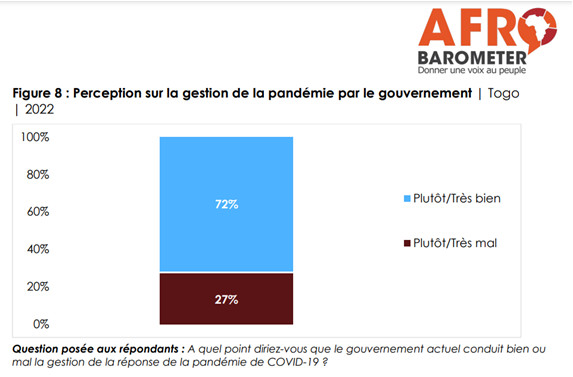 Corruption
However, only 42% of the sample population is fine with how the government supported vulnerable households during the crisis. Also, two-thirds of the surveyed believe that funds dedicated to the pandemic's management were embezzled.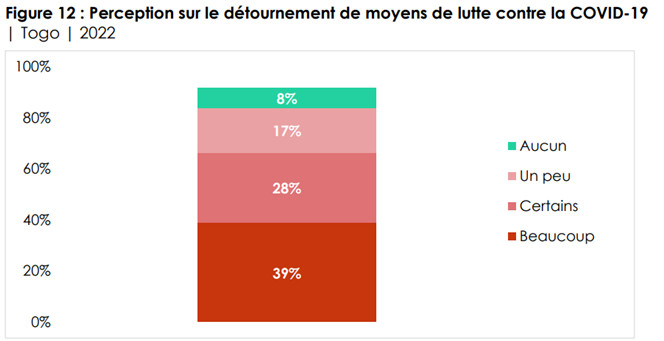 A few days before Afrobaromètre released its note, government representatives were at the national assembly to give explanations regarding the 2020 report of the Court of Audit on the management of Covid funds.
Regarding the use of security forces to make sure that populations comply with health measures that were imposed during the crisis, most citizens approve but denounce the censorship of media coverage at the time.
Better prepared for upcoming pandemics?
Most Togolese citizens, according to the survey, believe that the government will be better prepared if a similar health crisis were to occur. Still, they wish for more resources to be dedicated to preparations, the report's authors Hervé Akinocho and Komi Amewunou indicated in Afrobaromètre's note.
Ayi Renaud Dossavi