(Togo First) - Throughout last year, Venture Capital Funds invested $3.8 million (CFA2.05 billion in Togo's digital and tech startups. This was disclosed in a recent report by Partech, a transatlantic venture capital fund specialized in ICTs.
Across Africa, tech startups raised about $1.429 billion in 2020, against $2.02 billion in 2019 (-29%) according to the report. The decrease was recorded despite a greater diversification of transactions, in terms of geographical distribution, and greater resilience of African tech startups amid the Covid-19 pandemic.
According to Partech's ranking, Togo came 15th on the continent with tech startup of $3.18 million.
Nigeria was first with $307 million raised last year (-59% y/y), an amount that represents 21% of the total funds secured across Africa. The West African giant is followed by Kenya ($305 million), Egypt ($269 million), South Africa ($259 million), Ghana ($111 million), Rwanda ($11.6 million), Uganda ($11.3 million), Morocco ($11.2 million), Senegal ($8.8 million), Côte d'Ivoire ($6.5 million), Algeria ($4.6 million), Tanzania ($4.6 million), DRC ($4.6 million), and Cameroon ($4 million).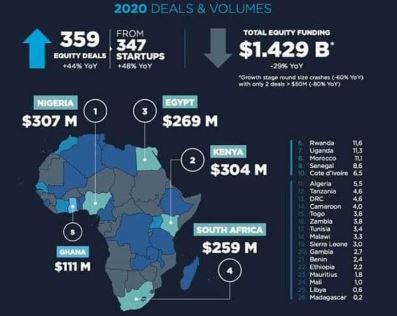 Togo, which shares its spot with Zambia (also $3.8 million), was ahead of others such as Tunisia, the Gambia, Benin, Ethiopia, Mauritius, or Madagascar.
Regarding the Togo-based startups that secured the funds, or their investors, it is worth mentioning that the report does not input transactions below $200,000.
Ayi Renaud Dossavi