(Togo First) - Togo jumped seven spots in the latest Global Peace Index (GPI) released on June 15 by the Institute for Economics and Peace (IEP).
It is among the frican countries that improved their ranking on the Australian think tank's index. The latter evaluates peace in 163 countries, based on 23 indicators, including deaths from internal and external conflict, terrorism, political instability, military spending as a percentage of GDP, crime levels, access to firearms, and relations with neighboring countries.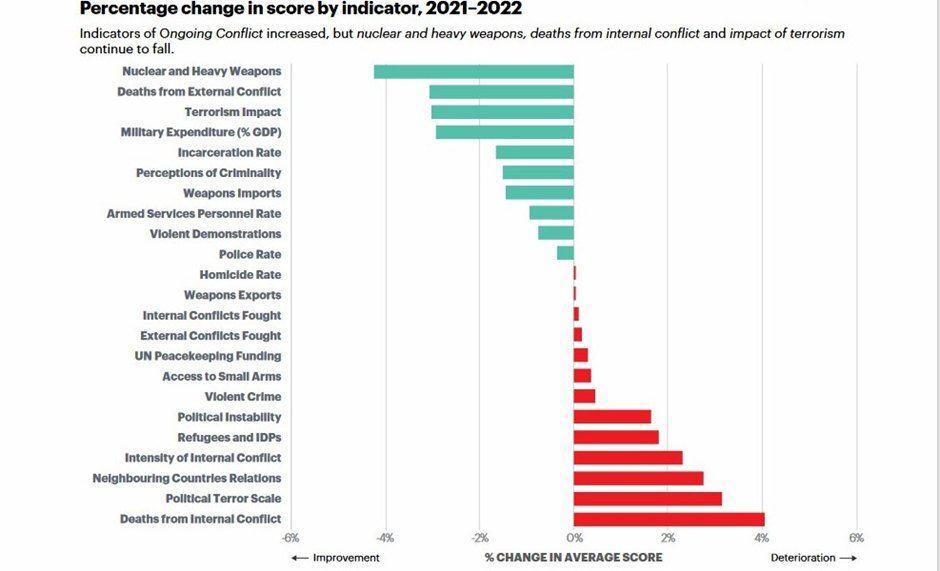 With a score of 2.094, Togo ranked 102nd worldwide and 20th in Africa. According to the report, it is one of the countries where the economic impact of violence has decreased the most, down by more than 25% between 2020 and 2021 (along with Equatorial Guinea and Bulgaria).
Angola is the African country that improved the most (it went up 14 spots to stand at the 78th position worldwide). Regarding Togo, it came behind Gambia (+10), Zambia (+10), Algeria (+10), Rwanda (+9), Morocco (+9), Gabon (+9), and the Republic of Congo (+7), in terms of progress.
The top African country is Mauritius which was not involved in any local or international conflict. Worldwide, it occupies the first place under the ongoing conflict indicator.
Mauritius is followed by Ghana (40th in the world), Gambia (45th), Botswana (48th), Sierra Leone 50+2, Zambia (56th), Equatorial Guinea (59th), Malawi (65th), Namibia (68th), and Senegal (70th in the world and 10th in Africa).
In Africa, the least peaceful countries, according to the Australian think tank, are Somalia, DR Congo, and South Sudan.
Ayi Renaud Dossavi